You know well enough by now that I loves me some Disney. I don't think any of them make me laugh as much as Robin Hood. This movie makes me happy. The characters are so playful and silly. It was released in 1973 and I feel it really reflects that time period. It's a little bohemian and the overall message was peace, love and taking are of one another. Just look at Robin and Maid Marian. They're adorable! It was so sweet that they were kids together and truly loved each other. There are too many Disney love stories based solely on appearance. I saw these two made into a wedding cake topper and now I must have it.
So sweet
Prince John was a great villain. I liked him even as a kid because he wasn't really that cruel. He was just greedy with some serious mommy issues. Him and Hiss are like an old gay couple bickering at each other. I love it!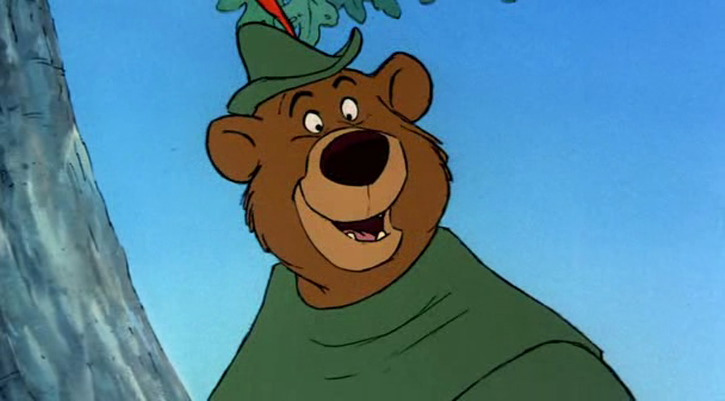 Little John was my other favorite. He dressed in drag and he was fabulous. It really helps that he's a bear because I LOVE bears.
I can't do this post without mentioning the Whistle Stop song. You know what I'm talking about. You're probably whistling it in your head right now. And then it'll get stuck. Because it's awesome! It's currenly my ringtone. Ha!
It's almost time for DISNEYLAND!! James and I are currently in California and we'll be there in a couple of days. I'm so excited!! James grew up going to Disneyland and knows it like the back of his hand. He is the perfect tour guide and knows the ins and outs of when and where to be for maximum enjoyment. He took me once before in 2007. Gosh, I can't believe it's been that long since he's been there. Poor baby. This time his sister Jenny and her boyfriend are joining us. I'll post pictures soon. Have a great week everyone!